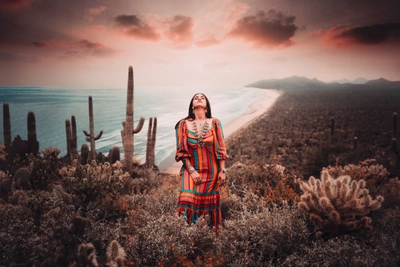 Ellanora DellErba

Biography
Ellanora DellErba writes at the cross-section of vintage country, folk, and ballad pop, recalling the dirt roads traversed by Emmylou Harris and Linda Ronstadt. Her songwriting style is refreshingly authentic. Ellanora's music reflects both wisdom, from her love of life, and depth, from her ability to love others so deeply. She turns heartache into song and shares the relatable journey of the human experience through her art. Her style is hauntingly fresh and sweet, beckoning the listener to follow along, dirt country roads less-traveled into their own heart.
This Tucson based Arizona native has been a Southern Arizona mainstay at annual music festivals since her youth; a fan-favorite at the Tubac Festival of the Arts, the Earth Harmony Festival, the Tucson Folk Festival, and The Sea of Glass—Center for the Arts. She is a featured choir solo vocalist and a featured artist/ interviewee on KVAN Visionary Radio Network.
I've been in film music licensing for over 25 years and I rarely see the polish and shear tenacity of natural creativity and professionalism as I do in this artist. She is pure home grown virtuosity
~ Robert Hotz, Ex-NBC Universal Media
About The Album
Her debut album, Lost To A Coastline, brims with stories of love lost, lessons learned, taking the high road, and remaining hopeful despite intense life struggles. The evocative title directly references a love lost to a geographic running away, and, on a metaphorical level, it conjures the dangers of global warming and other environmental ailments—our land could be lost to a coastline.