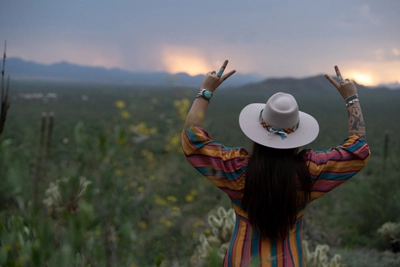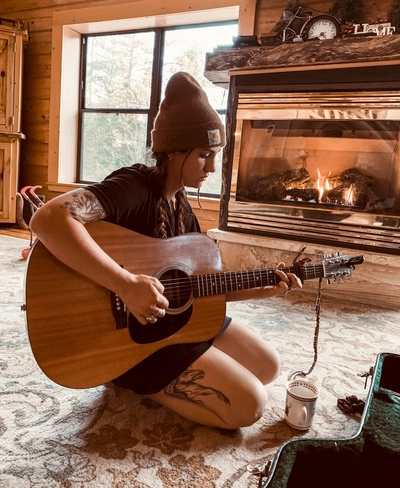 Ellanora DellErba
---
When Ellanora DellErba isn't picking her guitar, she's looking through the lens of her camera. One might be tempted to think she sprung up from nowhere, like sage on a high desert plateau, grounded and rooted in the arid earth, but that would belie her connection to the cosmos. She anticipates miracles and magic in everyday life. She's equally adept at inspiring an audience as she is in breathing new life into second-hand furniture, blurring the fine line between salvage and salvation. She is an unabashed believer in the mystical and the Divine. Her timelines are filled with color—cactus pads and sunflowers, adobe walls and ghost towns, butterflies and backroads, autumn leaves, and Aspen trees. Her musical aesthetic is inspired as much by Georgia O'Keeffe as it is by John Prine, Johnny Cash or TaliasVan. Read More
Ellanora DellErba writes at the cross-section of vintage country, folk, and ballad pop, recalling the dirt roads traversed by Emmylou Harris and Linda Ronstadt. Her songwriting style is refreshingly authentic. She courageously puts pen to paper, peering through her own heart to write lyrics of enlightened honesty, rich in the agony and ecstasy of life's circumstances. Her voice is an expression of purity; angelic in timbre, accentuated by emotional sincerity. Ellanora's music reflects both wisdom, from her love of life, and depth, from her ability to love others so deeply. She turns heartache into song and shares the relatable journey of the human experience through her art. Her style is hauntingly fresh and sweet, beckoning the listener to follow along, dirt country roads less-traveled into their own heart.
Ellanora DellErba began writing poetry and songs at a young age. Her parents encouraged her to develop her natural talents and their collection of eclectic albums fueled her to find a unique musical style. Wise beyond her years, she inspires others to develop their talents—not just in music, but in poetry, dance, and art—and to use those talents for positive change in the world. Ellanora was raised in an intentional community and remains a strong advocate for alternative lifestyles that nurture people's potential. She recognizes that her musical pursuits wouldn't be possible without the support of a large, extended family and the loving hand of God.
In Southern Arizona she has been a mainstay at annual music festivals since her youth; a fan-favorite at the Tubac Festival of the Arts, the Earth Harmony Festival, the Tucson Folk Festival, and The Sea of Glass—Center for the Arts venue in Tucson. She is also a featured solo vocalist with TaliasVan's Bright & Morning Star Choir. Read Less
Ellanora DellErba writes at the cross-section of vintage country, folk, and ballad pop, recalling the dirt roads traversed by Emmylou Harris and Linda Ronstadt.
Latest Performance Videos
ABOUT THE ALBUM: LOST TO A COASTLINE
Ellanora's debut LP, Lost To A Coastline, is a soulfully folk-flavored Americana album, brimming with stories of lost love, lessons learned, taking the higher road, and remaining hopeful despite intense life struggles. The evocative title references a love lost to a geographic running away. On a metaphorical level, the title connotes the dangers of global warming and other environmental disasters—lands lost to a coastline. The songs on the album are instantly familiar—good friends during dark times. They're edgy, earthy, and elegant; gracefully adorned with lonesome pedal steel, haunting ambiance, and stately fiddle flourishes. At the center of it all is Ellanora's tasteful guitar accompaniment and her sensually expressive vocals, spanning soft honeyed tones and richly expressive, full-voiced soul. Read More
Lost to a Coastline was engineered by Craig Schumacher who's previously worked with Calexico, Devotchka, Neko Case, The Jayhawks, Amos Lee, and Iron & Wine. Standout selections include: the sweetly ominous "Highway Grass," the lyrics stinging with sadness, especially the passage: Nothing but highway grass / It's all understood, there's nothing that I could have done / To find you; the dark but comforting "Starsong," a live-show favorite, featuring layers of mesmerizing lead and harmony vocals and profound lines such as I didn't pray for a lighter load, just a stronger back; and "Little Dreamer," a heartland rocker that recalls the feel-good and let-loose side of Bruce Springsteen and John Mellencamp. The album's title track exudes a sweet melancholy, replete with a minor-key folk aesthetic and achingly beautiful vocals. Ellanora's lyrics are vulnerable and visceral here, one soul-searching passage reads: Pride makes you stumble / Gentle green eyes stay humble / Love takes time and you ran away from mine / but I gave it all the way didn't I?
As a prolific poetess, she has dozens of new songs, ready to record. Although Ellanora DellErba is new "on the scene" she is a seasoned professional with the catalog, the chops, and the insight to harness the momentum from this debut album and embrace the future with many more albums to come. Read Less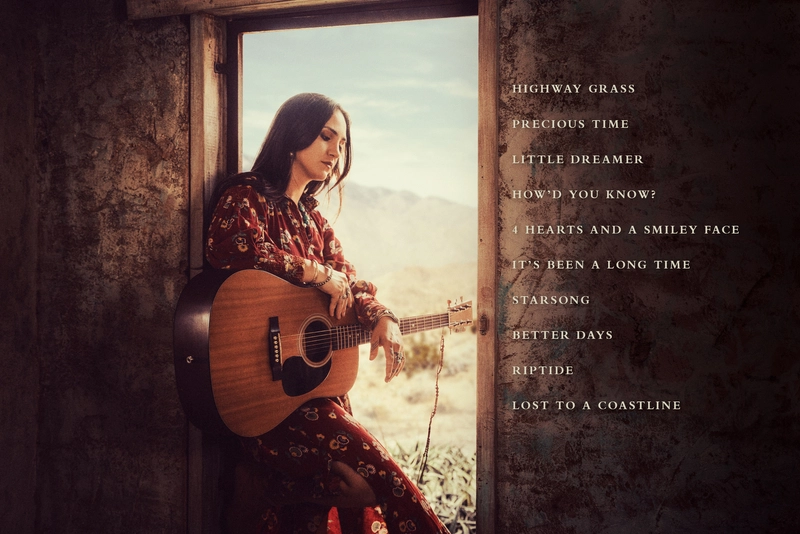 Highway Grass
Precious Time
Little Dreamer
How'd You Know?
4 Hearts And A Smiley Face
It's Been A Long Time
Starsong
Better Days
Riptide
Lost To A Coastline